The world famous Octagon arrives in Brooklyn's Barclay Center for the first UFC pay per view of the year. Although it is debatable if this card is PPV worthy, I'm sure fans will still tune in. 
Last week, Paul took the lead with the help of a few underdog picks. This week the top 3 is almost unanimous on their picks. Check out below, to see who we believe will walk away as the first women's featherweight champion.
Paul (12-4):  Holm, Brunson, Souza, Cannonier, Poirier
Kenneth (9-7): Holm, Brunson, Souza, Cannonier, Poirier
Jake (8-8): Holm, Brunson, Souza, Teixeira, Poirier
Kieran (7-9): GDR, Silva, Souza, Teixeira, Poirier
Will (7-9): Holm, Silva, Souza, Teixeira, Miller
Jonathan (6-10): Holm*, Silva, Souza, Cannonier, Poirier
Holy Holm (6) vs. Germain De Randamie (1)
The main event will be for the inaugural women's featherweight championship. Holy Holm is currently riding a 2 fight losing streak going into the fight. GDR is on a 2 fight winning streak going into the bout, but against non-ranked opposition. Most of us are leaning towards Holm because she has had success against much tougher opponents. This fight will primarily be a striking battle, but don't be surprised if GDR tries to expose Holm's grappling skills. This is a fight that Holm can lose, and she will need to attack first often to win the rounds. If Holm can survive the early onslaught of GDR she will be able to take over the fight with volume in the later rounds.
Prediction: Holy Holm via unanimous decision.
Anderson Silva (3) vs. Derek Brunson (3)
Silva's last legitimate win was back in 2012 against Stephan Bonner. Wow, how the great man has fallen. Derek Brunson on the other hand; has won 5 of his last 6 and has only had one of those victories go the distance. If Brunson comes in wild, Siva may be able to capitalize with his dangerous counter striking. If Brunson can connect early, it will be a tough night for all Silva fans. Since we are totally split on this fight, let's hope the GOAT gets his hand raised one more time.
Prediction: Anderson Silva via 2nd round TKO.
Ronaldo Souza (7) vs. Tim Boetsch (0)
There is only one fight that we can all agree on who we believe will win. This year we are 1-2 on unanimous picks, so hopefully we don't jinx Souza. I'm surprised Souza accepted this fight instead of waiting around for a title shot. But since the middleweight division is such a mess, it's hard to blame him. Tim Boetsch has legitimate knock out power and can end Souza's night suddenly. I imagine that Souza will look for the takedown early and get the submission late in the first round.
Prediction: Ronaldo Souza via: 1st Round Submission.
Glover Teixeira (4) vs. Jared Cannonier (3)
Glover Teixeira has been in the Top 5 of the light heavyweight division for quite some time. Surprisingly this will be only Cannonier's second fight in the division. We seem to be split on this one as well. Majority of us are leaning towards Teixeira because of his experience, but Cannonier is a scary dude. Teixeira got stopped extremely early in the first round in his last fight against Anthony Johnson. Cannonier will look to impose the same game plan. Keep the fight standing and knock his head off. Teixeira's best route will be to look for opportunities on bringing the fight to the ground. Many people forget that he has a black belt in BJJ,and he should have the advantage once the fight his the ground. If Cannonier can't stop the takedowns, it's going to be a long night for him. Look for Teixeira to wear his opponent down on the ground and get the submission win in the final round.
Prediction: Glover Teixeira via: 3rd round submission.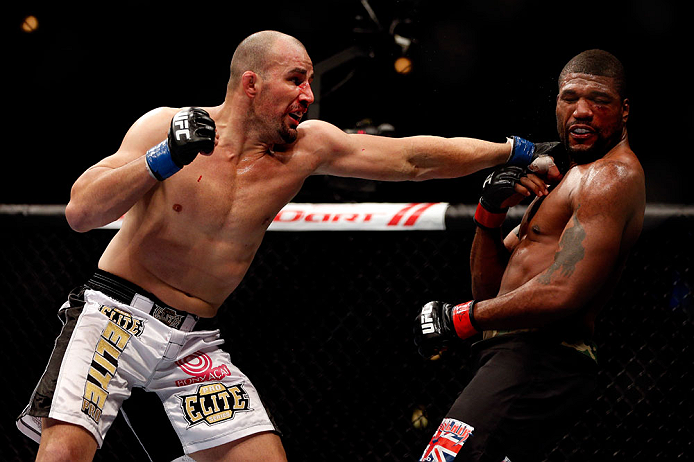 Jim Miller (1) vs. Dustin Poirier (6)
Dustin Poirier was riding a ton of momentum coming into his last fight with Michael Johnson. The two fighters had bad blood and Poirier fought an emotional fight that cost him. Jim Miller is currently riding a 3 fight winning streak and looks to break into the Top 15. Combined, these two fighters have stepped into the octagon over 40 times. It comes to no surprise that the UFC picked this fight to open up the PPV Card. Most of us at MMACS are leaning towards Poirier, as he has looked much better since moving back up to lightweight. Miller can win this fight if he is able to win the clinch exchanges and get the fight to the ground. Miller has shown improved strking from the clinch position where he is active with elbows and knees. On the ground, Miller has submitted some of the best the division has to offer. However, Poirier has only been taken down 3 times in his last 10 fights. This fight will mostly be dictated on the feet and Poirier should get the better of the exchanges over the 3 rounds. I expect it to be an exciting fight, with an obvious winner.
Prediction: Dustin Poirier via unanimous decision.
Who do you think will win these fights at UFC 208? Sound off in the comments section or on our Facebook page.
Comments
comments
Powered by Facebook Comments