**This post was automatically retrieved from the UFC.com RSS Feed**
This is the original article:
http://www.ufc.com/news/On-the-Rise-Winnipeg-Edition
By E. Spencer Kyte
**This post was automatically retrieved from the UFC.com RSS Feed**
For the third time in 2017, the Octagon visits the Great White North, as it lands at the "crossroads of Canada" in Winnipeg, Manitoba for the final UFC on FOX event of the year.
It has already been a memorable month in the cage and this weekend's show is sure to add to the collection of tremendous fights and breakthrough performances that have already taken place while we get closer to Santa's arrival and the start of 2018.
While the headlining acts have been bringing the goods through the first three events of the month, the upstarts and emerging talents have been holding their own as well and that trend should continue in "The Peg" on Saturday.
Here's a look at three new arrivals to keep tabs on this weekend.
This is On the Rise: Winnipeg Edition.
Fighting out of Syndicate MMA in Las Vegas, the 27-year-old middleweight punched his ticket to the UFC by knocking out former hyped prospect Phil Hawes in their Week 4 matchup on Dana White's Tuesday Night Contender Series. Knocking off the Jackson-Wink MMA Academy product pushed Marquez' winning streak to four and secured him a chance to test himself against the top 185-pound fighters in the sport.
A former light heavyweight, Marquez carries obvious power in his compact frame and has tremendous finishing instincts, as each of his six professional victories and both of his amateur wins came by way of stoppage. "The Cuban Missile Crisis" didn't just arrive out of nowhere to land a shot in the UFC either, as his previous two victories prior to defeating Hawes came against former UFC stalwart Matt Hamill and tough Roufusport product Cameron Olson, who picked up a victory on the final week of this summer's mid-week fight series.
Originally scheduled to face Vitor Miranda, Marquez will instead face Darren Stewart, who steps in to replace the Brazilian on short notice. Stylistically, it's a similar pairing as Stewart, like Miranda, prefers to stand, which should produce a good chance to get a better read on where Marquez fits in the division.
UFC debuts are always slippery, but when you add in a trip to the ice planet Hoth and a late opponent change, it add a few more challenges into the mix. If Marquez can get through them without issue, he'll be in a good position to start working his way up the ladder next year.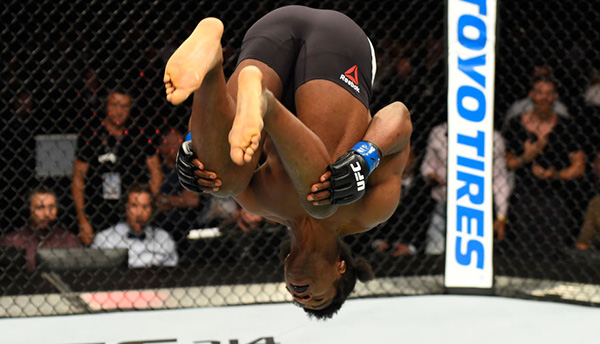 Liverpool has already produced one of the biggest breakout stars of 2017 – welterweight Darren Till – and now Manchester will get into the act, as Mancunian Pitero Menga replaces Justin Scoggins opposite former TUF winner and title challenger Tim Elliott this weekend in Winnipeg.
Unbeaten in 13 professional appearances, the 29-year-old returned from nearly two years on the sidelines this summer to pick up a 41-second stoppage win over Spencer Hewitt, making it clear that he was still one of the top prospects on the European circuit. Now he gets a chance to make an instant impression in the Octagon by squaring off with the awkward and ultra-tough Elliott on short notice.
Brandishing impressive power for the flyweight ranks and sporting 11 finishes in 13 appearances, the confident Menga believes he's capable of being a contender in the UFC's 125-pound weight class right out of the chute and Saturday is his chance to prove that he's correct. Elliott is durable and dangerous – "like wrestling a damn muskrat," as flyweight champ Demetrious Johnson put it – but if Menga can make it 14 straight this weekend in Winnipeg, he'll find himself in the fast lane to contention once 2018 gets underway.
**This post was automatically retrieved from the UFC.com RSS Feed**
This is the original article:
http://www.ufc.com/news/On-the-Rise-Winnipeg-Edition
By E. Spencer Kyte
**This post was automatically retrieved from the UFC.com RSS Feed**
Powered by WPeMatico
Comments
comments
Powered by Facebook Comments