UFC on Fox Highlights
Urijah Faber stepped foot in the octagon for the last time this past Saturday. In front of his home crowd of Sacramento, Urijah looked impressive against Brad Pickett. In a fight where Urijah looked 5 years younger, it was a great outing for the California Kid. Urijah was able to rock Pickett in the first round with a left hook, and went for many submission attempts throughout the fight. Faber won by Unanimous Decision due to his dominant performance.
In the Co-Main Event two young UFC studs locked horns, and many fans were curious what the result would be. Mickey Gall looked to get past highly talented striker Sage Nothcutt. In the early outing, Sage was able to land a few round kicks, but it was the grappling skills of Gall that were the deciding factor of the fight. Many times, Gall was able to bring the fight to the ground and control the younger fighter. In the second round Gall was able to rock Sage, which forced him to shoot in on the more experienced grappler. From there Galll was able to take Sage's back and finish with a Rear Naked Choke. In the interview afterwards, Gall used the opportunity to call out UFC Veteran Dan Hardy.
In the Main Event, two woman looked to climb the Strawweight rankings. Paige VanZant was given the opportunity to fight in front of her new home against former Invicta Atomweight Champion; Michelle Waterson. Early on in the first round, Waterson was able to land a head-arm take down from clinch. From there it noticeable that Waterson was the better grappler as she was able to take Paige's back with ease. Waterson went for the Rear Naked Choke, and Paige VanZant went out fighting. The Karate Hottie continues her win streak in the UFC with another submission victory.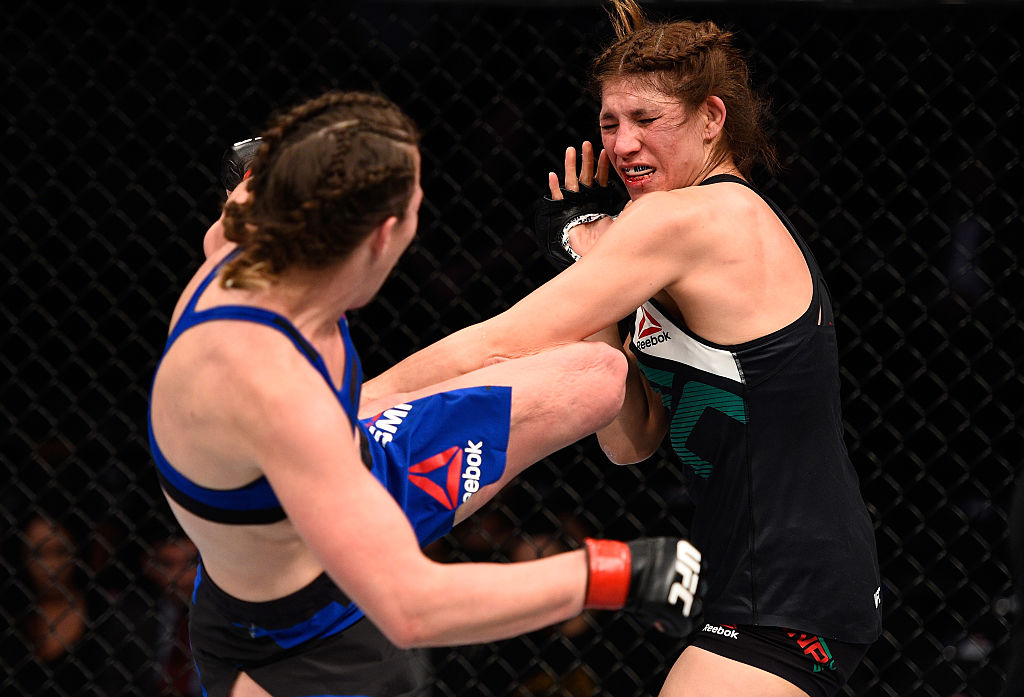 50 Gs Baby
Fight of the Night went to Leslie Smith vs Irene Aldana. Irene was 4-1 with Invicta and was making her UFC debut. Smith was coming off a contested loss to Cyborg and was looking to get back in the win column. In a fight with over 200 strikes landed, it was no wonder this back and forth battle got Fight of the Night. Leslie Smith won by Unanimous Decision.
Performance of the Night went to Paul Craig and Michelle Waterson. Craig made his UFC debut against Henrique da Silva. In a fight where most fans believed would be a stand up battle, both fighters were able to land a take down each. Craig was able to land an arm lock in the 2nd round to win by Submission. Paul Craig is now 9-0 and with a nickname such as "BearJew" how can you not love him.
Michelle Waterson earned her 50k bonus with her quick and dominant performance over Paige VanZant. A top 5 ranked opponent should be next for the Karate Hottie.
Women's Featherweight Title
The UFC recently announced a new weight division and a title fight for the vacant title. Holly Holm will be facing off against Germaine de RandamieLS57B3612219. Holm is currently ranked #4 in the Bantamweight Division and is on a 2 fight loss streak. GDR is currently ranked #10 in the Bantamweight Division and is on a 2 fight win streak over unranked opponents. It looks as if the UFC is hoping Ronda wins at UFC 207 and Holm beats GDR, that way the rematch can occur. The UFC will then have another 2 division champion if their wishes come true.
Joe Rogan on UFC 207 Promos
Anyone that has seen the 207 promos know that most of them favor Rousey over Nunes. And by most of them, I mean ALL OF THEM. This fight is not being built as a title fight, but as The Return of Ronda Rousey. Joe Rogan recently mentioned it and it has made some people wonder. I'm sure Nunes doesn't mind less media as it gives her more opportunities to prepare to defend her title.
Dan Hardy's Response to Mickey Gall
On the MMA Hour, Hardy responded to Gall calling him out. Hardy stated that he has never fought an opponent with as few fights as Gall and is only interested in fighting a UFC veteran for his return. Gall was on the line as well and both fighters were extremely respectful to one another. Hardy said that he would be down to fight Gall in a few years though.
Comments
comments
Powered by Facebook Comments