**This post was automatically retrieved from the UFC.com RSS Feed**
This is the original article:
http://www.ufc.com/news/Fight-Night–Jacare-vs-Brunson-2-Live-Results
UFC Staff Report
**This post was automatically retrieved from the UFC.com RSS Feed**
Who were the winners at Fight Night: Jacare vs Brunson 2? Click below to get the results for all the fights in Charlotte, North Carolina on January 27, 2018.
Action starts at 8 pm ET
---
---
---
---
Action starts at 5 pm ET
---
---
---
---
---
Vinc Pichel vs Joaquim Silva
Both fighters were exceedingly patient early on, carefully finding their range. It was midway through the second that they seemed to find some comfort and traded an exact number of strikes and signficant strikes (15/12). Both fighters came out swinging for an upbeat third round, both clearly going for the win in one of the most even fights in recent memory. In the end, however, it was Pichel's slight edge in strikes that was good enough for the decision win, and his fourth straight victory.
---
Action starts at 4pm ET
Niko Price vs George Sullivan
Despite a second round that was mostly controlled by Sullivan from the top position, hot prospect Niko Price waited for his opening and made a quick transition to execute the rear naked choke late in the round. Price mentioned Darren Till as a fighter he'd like to face during his Octagon interview.
THEY SAID IT:
Niko Price:"I didn't expect the fight to be so back and forth but I was very impressed with his power. He is a brute on the ground and he hits really hard but that's what makes it so fun to be in this sport. Pushing yourself through tough moments and finding ways to win is what it's all about. When I felt the tap, it felt like the heavens opened up. That's the moment we live for as fighters. I hope it was impressive enough to earn me that bonus but, more than anything, I just can't wait to get back out there and do it again next time!"
---
Austin Arnett vs Cory Sandhagen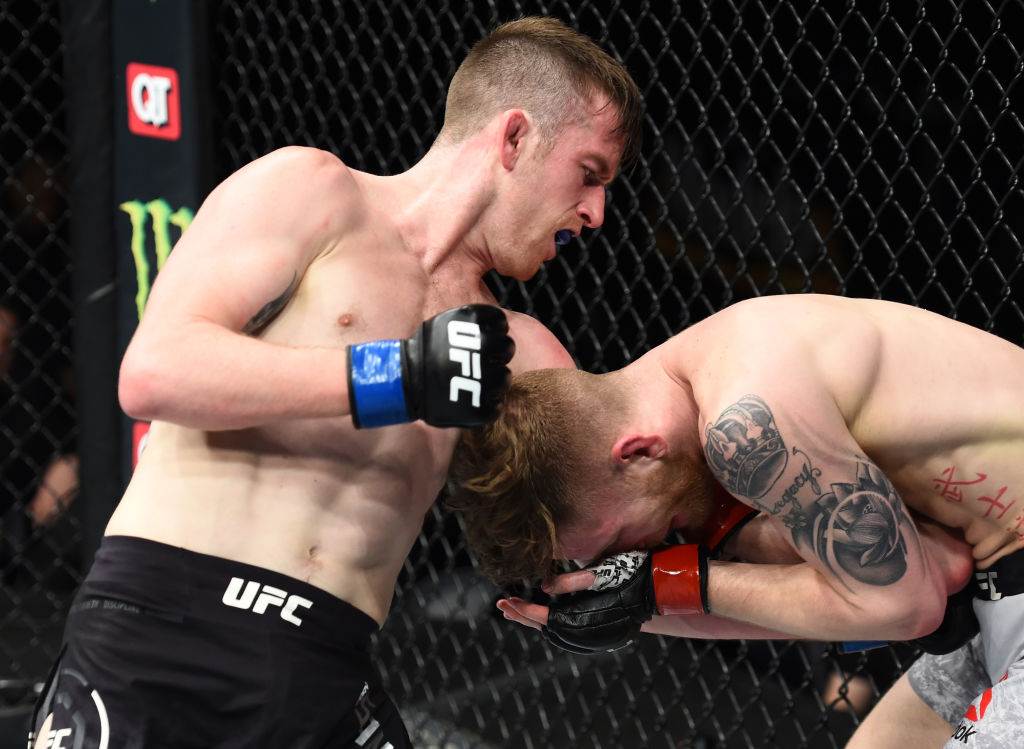 Both Arnett and Sandhagen made their UFC debuts in the kickoff to Fight Night Charlotte, but it's Sandhagen who will go home with the special memories of his inaugural Octagon appearance. Arnett waited for an opening for most of the first round to his detriment, as it was Sandhagen who was in control with more than double the strikes. His flurry continued in the second, and it was more than Arnett could handle. A liver shot dropped Arnett to the mat, where Sandhagen moved in for the finish and a TKO at 3:48 in second round.
THEY SAID IT:
Cory Sandhagen: "It was very important to me to treat this like any other fight even though I was making my debut. I've learned the importance of shutting out nerves and taking things as they come. I look at what I do as an art and I wanted to showcase that. I was able to impose my will and get the finish, which is amazing. Next, I am going to talk to my coaches and see what they think I should do but I feel good and hopefully I'll be back out there very soon."
---
**This post was automatically retrieved from the UFC.com RSS Feed**
This is the original article:
http://www.ufc.com/news/Fight-Night–Jacare-vs-Brunson-2-Live-Results
UFC Staff Report
**This post was automatically retrieved from the UFC.com RSS Feed**
Powered by WPeMatico
Comments
comments
Powered by Facebook Comments