**This post was automatically retrieved from the UFC.com RSS Feed**
This is the original article:
http://www.ufc.com/news/Chookagian-returning-home-to-flyweight-division-in-Charlotte
By Thomas Gerbasi
**This post was automatically retrieved from the UFC.com RSS Feed**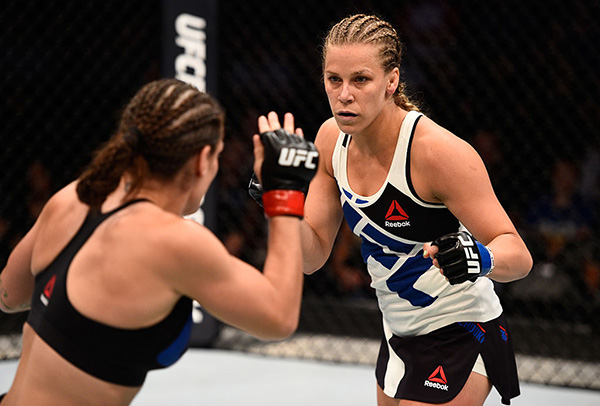 MORE FROM FIGHT NIGHT CHARLOTTE: Rogan previews Jacare vs Brunson | Charlotte Fantasy Preview | Three Fighters On the Rise
This Saturday, Chookagian makes her first UFC appearance at flyweight when she faces Italy's Mara Romero Borella in Charlotte. Borella, victorious in her first UFC bout against Kalindra Faria, already sits at number nine in the rankings. Chookagian has already defeated the No. 1-ranked Sijara Eubanks and the No. 2-ranked Lauren Murphy. Add in a 2015 finish of Melinda Fabian, and she has quite the resume for someone who hasn't fought there in the UFC yet. But that should tell you just how good she is, and how she was punching above her weight – literally – in going 2-1 at 135 pounds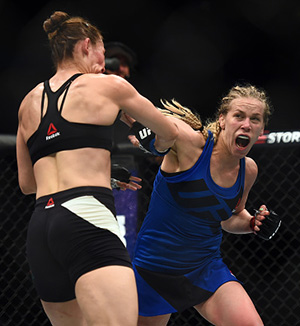 in the Octagon.
"Now that I've been at bantamweight, I know I can compete at that weight class, but also, two out of the three girls that I fought there (Murphy and Liz Carmouche) are now at flyweight, so I got lucky with that in that I didn't fight the biggest bantamweights necessarily," she said. "At bantamweight I don't feel as quick and as fast, I'm a little heavier and I don't really have to cut weight at all. I put on a sweatshirt the night before weigh-ins and did the elliptical and that was about it. (Laughs) So doing a little bit of a cut, I think I have a better advantage. I'm really tall but not very muscular, so at flyweight I can use my reach as an advantage, as well as my speed. Seven of my ten pro fights were at flyweight and all seven of my amateur fights were at flyweight. Some were even at 120."
In other words, Chookagian is coming home, and if she beats Borella, that's three wins over three top ten contenders. That should be enough for her to get into the race for a shot at champion Nicco Montano, but Chookagian isn't so sure that will happen.
"That would be really nice, but you know how things are," she said. "I've had three fights in the UFC, but I still think a lot of people don't know about me. So being realistic, it's all up in the air. No one knows where they're going to be ranked, the girl I'm fighting is ranked number nine, so if I beat her, that's three girls in the top ten that I've already beaten. So I think it should definitely push me up to the top because I've already beaten the girls that are at one and two."
Getting that shot and winning the belt is the goal, and she's getting closer. But don't expect the 29-year-old to take her foot off the gas. As she looks around and sees the likes of Frankie Edgar, Edson Barboza and Marlon Moraes putting in work, it's clear that getting to the UFC was only the first step.
"When I look over at them and they're going as hard as they can all the time, that's extra motivating for me," Chookagian said. "I know for a lot of people, getting in the UFC is a huge goal for them, but for me, that wasn't really one of my goals because – without sounding cocky – I was expected to do that. I had those expectations for myself. So I don't think I'll lose that hunger, because I want to be a world champion. And I just got started, and now with there being a new weight division, this feels like my UFC debut."
**This post was automatically retrieved from the UFC.com RSS Feed**
This is the original article:
http://www.ufc.com/news/Chookagian-returning-home-to-flyweight-division-in-Charlotte
By Thomas Gerbasi
**This post was automatically retrieved from the UFC.com RSS Feed**
Powered by WPeMatico
Comments
comments
Powered by Facebook Comments